Pumpkin spice, mental inbox advice…these are the ingredients to make the perfect fall emails. We know you've at least considered combing through your closet to find those cozy oversized sweaters, finding your favorite flannel and boots, buying the best-smelling cinnamon brooms, and baking pumpkin spice everything with the folklore album playing on repeat.
You'll find all of these elements sprinkled throughout fall emails where companies use the season to their marketing advantage to advertise products, a feature release, a scent, or a memory. These seasonal emails could be the invisible string tying you to your readers.
What to include in your fall emails
Fall is one of the busiest seasons during the year for sales and donations with Labor Day (U.S.), Oktoberfest, Halloween, Veterans Day, Thanksgiving, Black Friday, Small Business Saturday, and Cyber Monday. This is a great opportunity to reward your subscribers by including special offers, promotions, and quality content in your fall emails that lead back to your site, your blog, or your shop.
Share a snippet about your sale or updates and capture your readers' attention with a playful subject line, fallen leaf emoji included ("Fall in love with our new pumpkin candles"). Create urgency by using custom preheader text, including your sale end time ("Hurry - offer ends tomorrow").
In the subject line, preheader text, and email body, you'll also find mentions of…
Fall freebies
Fall fests
Fall sales
Fall faves
Fall in love
Falling for fall
Gratitude
Candy corn
Apple cider
Pie
Turkey
Gravy
Stuffing
Fireplace
Leaves changing colors
Cornucopia
Nutmeg
Get inspired by these 12 fall emails!

The Simple Life newsletter combines a unique mix of email elements. It includes a heartfelt note from an employee thanking customers, promotes a giveaway, shares a customer's story, and highlights another customer's journey as it pertains to one of the company's hashtags.
While this email might only say "fall" with its hero image (and with the giant pumpkin further down in the email), the newsletter focuses on gratitude, a common theme in celebrating the holidays.

This isn't your typical fall email design. Hush Puppies gives a nod to the season with its large hero text and lets the rest of the email sell for itself. The email includes some solid product photos and clear CTAs, doing a nice job stacking the images on mobile and desktop to look great with HTML text.

AARP goes all out with this fall email filled with a leaf wreath, "fall in love" verbiage, fun GIFs, resizing images on hover, and CTA buttons changing colors on hover. There are a lot of images in this email, but the autumn colors and leaves sprinkled throughout the email make it stand out as a top fall email.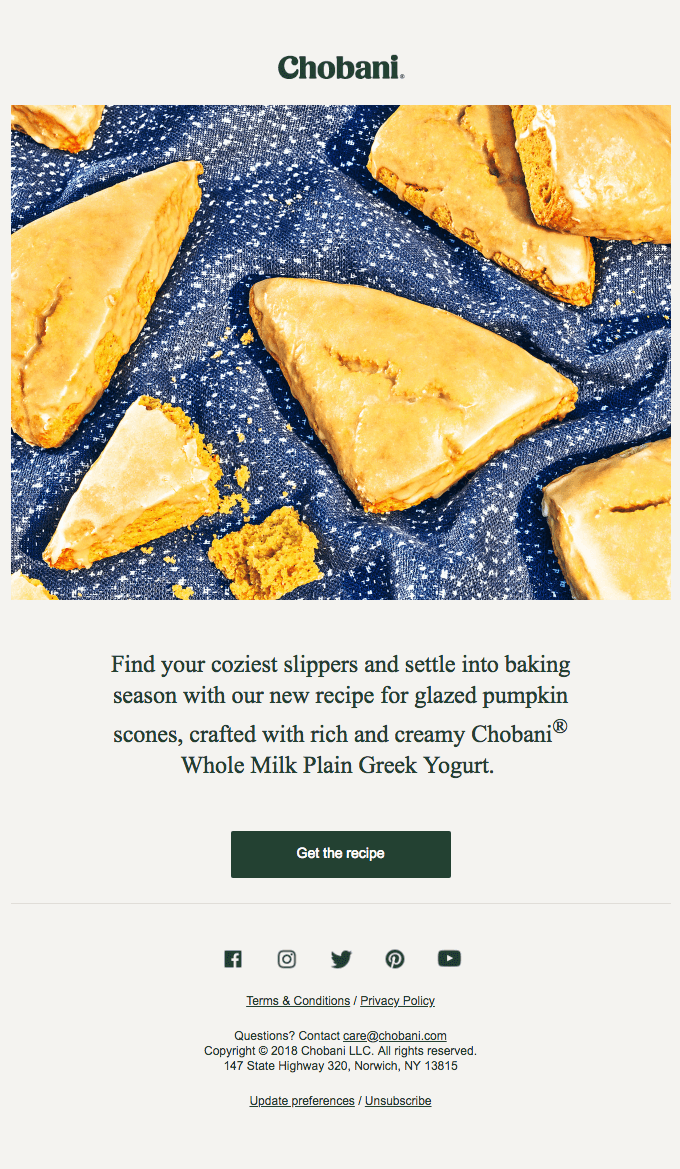 Wondering how to make glazed pumpkin scones to celebrate fall (or to simply satisfy your pumpkin cravings)? Chobani's got you covered. This fall email locks in a short and sweet message with a simple CTA and fun food photography showing off the crumbly baked scone goodness.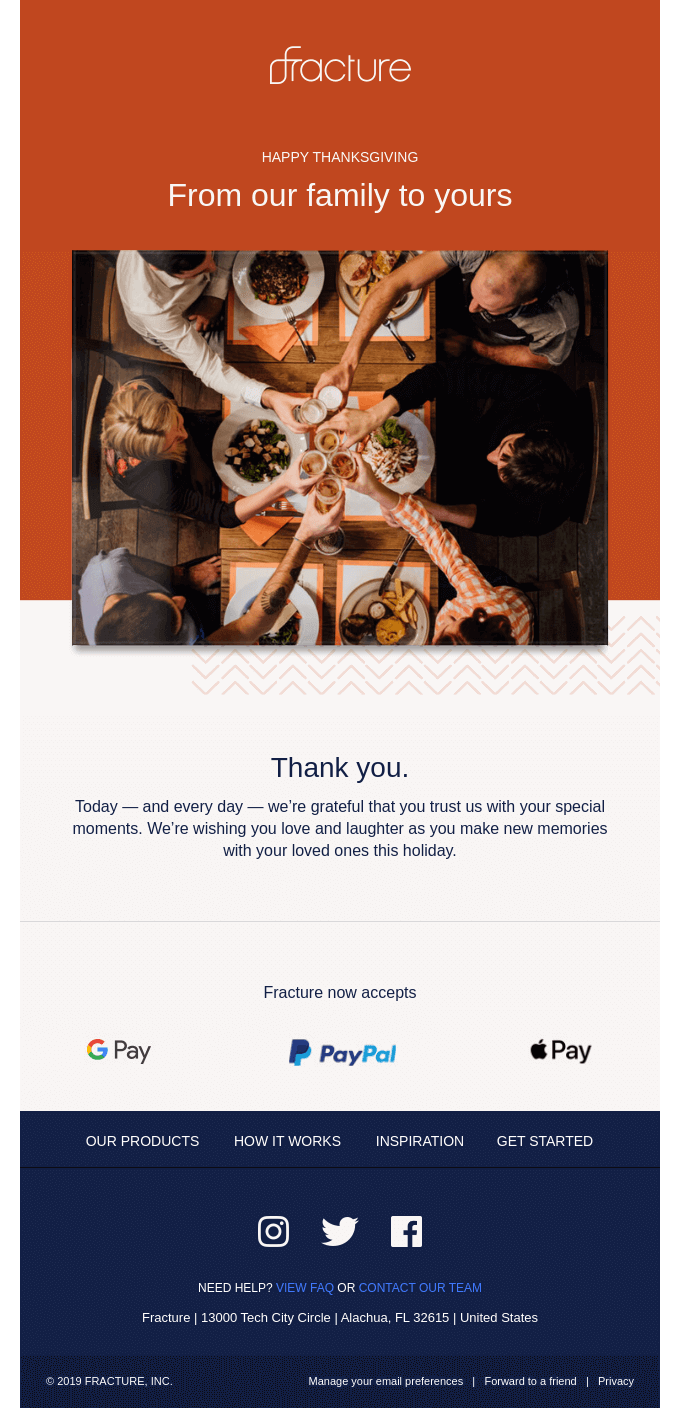 Fracture is all about holiday gratitude in this mashup of a Thanksgiving / fall / thank-you email with people clinking glasses and celebrating at a table decorated with orange napkins and placemats (because, fall).

According to Outdoorsy, as soon as summer ends, fall brings in new colors, new roads, and new opportunities to explore while traveling. The beautiful autumn leaves on an empty road in this email paint a beautiful picture of what's next. Outdoorsy keeps the fall vibes strong with a fall festival bucket list (though, these festivals would most likely be virtual now), and beautiful sunsets.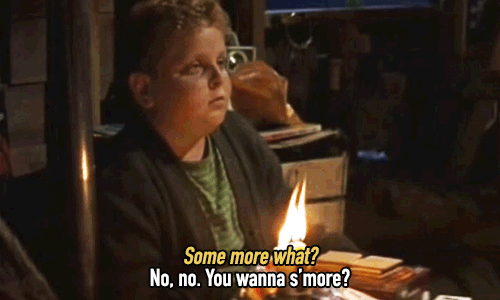 3 ingredients, a skewer, and a campfire. Postmates offers its audience a delightful s'mores freebie, all customers have to do is pay for delivery. This is a great incentive for customers to order through the local delivery service.
If customers are going to order a free s'mores kit and pay for delivery, this could inspire them to throw in some meals and other treats in their cart to make the most of that delivery fee. Throughout the email, Postmates includes a fun mix of illustrations and a recipe with clear CTAs at the end of the email.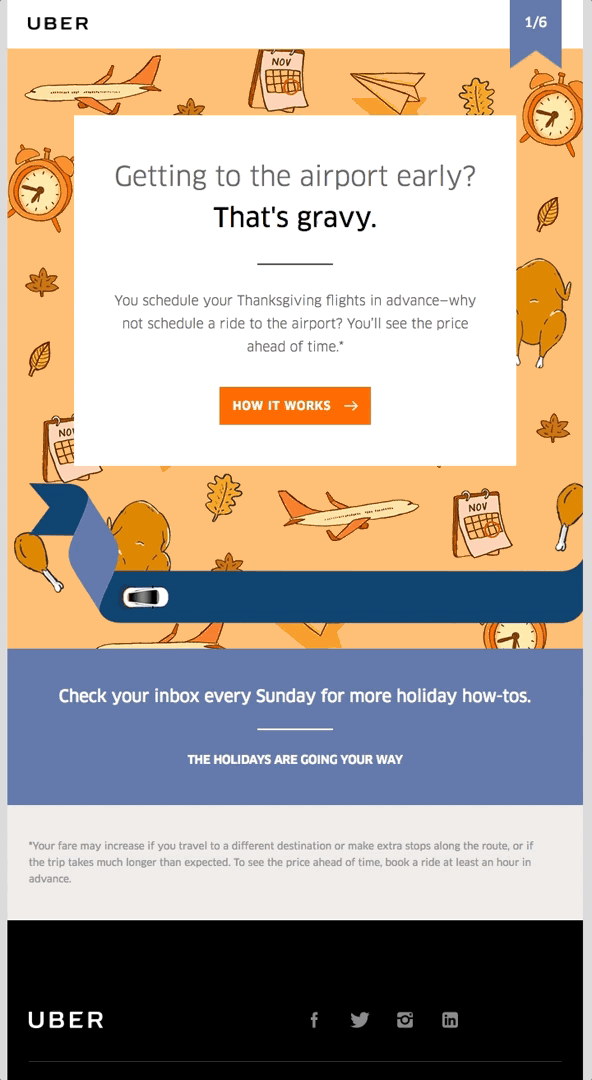 Who doesn't love a dancing email? Uber pairs a fun, fall-themed GIF with a well-seasoned pun: "That's gravy." This fall email is playful, to the point, and stays true to its Thanksgiving advertising right down to the pumpkin orange "How It Works" button.

Lyft's fall email is more than just colored leaves and a turkey car surrounded by veggies. The company incorporates its hot pink branding in the leaves and the CTA, keeping its branding consistent throughout the email. Lyft keeps the fun going with its blocks featuring Thanksgiving-themed cars, from a cornucopia to corn on the cob.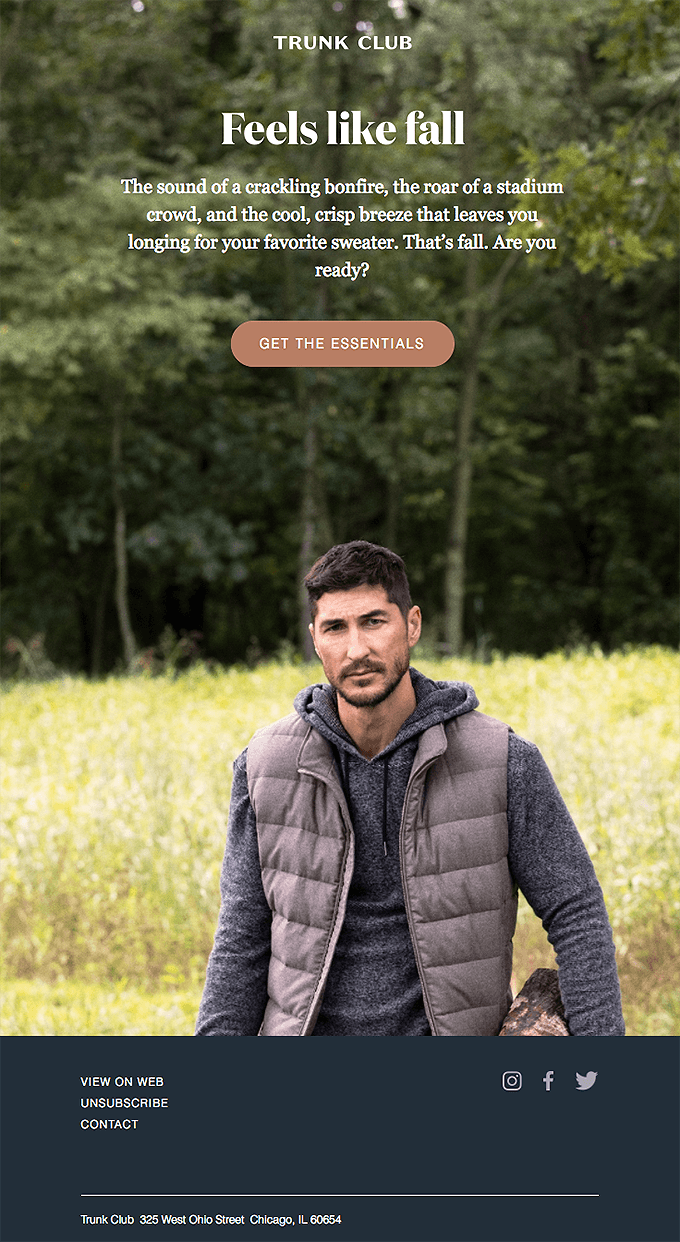 Trunk Club places its audience right in the middle of the autumn air through storytelling, complete with a bonfire, crisp breeze, and an outfit fit for fall. The company may have deployed an A/B campaign with the same image, different verbiage. Also, notice how one email mentions "fall" and the other mentions "autumn."
11) Bath & Body Works

Bath & Body Works knows how to sell their scents in every season. Winter? Vanilla Bean Noel. Spring? Blueberry Pie. Summer? Sun-Washed Citrus. And, of course, fall? Pumpkin Pecan Waffles welcome in the season.
Although Bath & Body Works designs image-only emails, their product photography is always on-brand, smart, relatable, and aware of the season for its customers so they can picture the BBW products in their home. This fall email's GIF, orange colors, season sweets, and autumn leaf wallflower product all keep the company top of mind in fall promotions.
12) Michaels

Michaels shows off pretty fall florals, craft pumpkins, and wreaths in its emails. The "Make It" buttons, although image-only, empowers readers by showing them how to create their own sequin pumpkins and more.
While Michaels is another company that creates image-only emails, we can appreciate and draw inspiration from their lifestyle photos and product staging to create our own stylish yet accessible fall emails.
Really Good Fall Email Collections
Check out these fall email collections from RGE users:
Maria's fall email collection showcases designs from Headspace, DogVacay, and Leesa:
Matthew's Thanksgiving email collection highlights products and sales emails from companies like Baggu, BaubleBar, and Casper:
Here's a look at some of my favorite fall emails, including emails from this article:
Engage Your Audience Year-round
Whether you're writing a personal newsletter or advertising your brand's products in a fall-themed email, it's important to test your email designs to learn what works best for your audience. Keep the conversation going year-round in your emails, through social media, and on your website so your audience will come to love and expect your seasonal emails aligning with your branding.
Did we miss one of your fall favorites? Send us your fall email by clicking the "Upload an Email" button in the top right corner of your screen.